What You Should Know About Electric Vehicles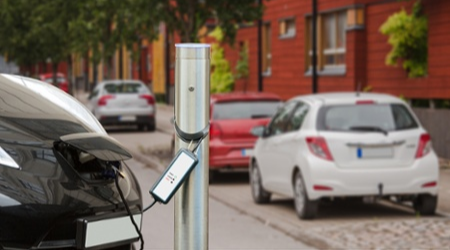 It wasn't too many years ago that the words "electric car" inspired jokes about really long extension cords. Fast forward to today, and we find that electric vehicles — EVs — are not only here, they are becoming serious business.
How serious? A kickoff to National Drive Electric Week (September 14- 22) is scheduled for September 14, 2019 in Washington DC. Latest models of EVs and their committed drivers will be on hand to demonstrate and answer questions.
While the long extension cord may be a joke, the reality is that electric vehicles do need a charge — a big charge — in order to run. Gasoline-powered vehicles get their "charge" at the gas pumps. EVs need electricity, and a lot of it. If you are considering an electric vehicle, here's what you should know.
From Gas Station to Charging Station
As electric cars become more common in and around the Washington D.C. area, one of the challenges is that of finding a convenient charging facility, especially one close to home. Public charging stations are still few and far between. Fortunately, there is a common sense solution for many homeowners, and that is to install an EV charging station at home. A heated garage or carport makes an ideal location, but charging stations can be successfully installed in unheated structures, as well as out in the open, on posts near dedicated parking spaces, or attached to the sides of buildings. What is good to know, is that there are alternatives that work safely and efficiently in a variety of situations.
Once you have an idea about a good location for your EV charger, the next thing to consider is which of two "levels" is a better choice for you. Either level will provide the charge needed to keep your electric vehicle running smoothly and reliably.
Level I Charging Stations
This option offers some simplicity and may be more affordable up-front, but may "cost" you more in time and efficiency, as it will require you to leave your car plugged in for longer periods of time, in order to charge for the distance you need to go.
Level I charges at a rate of around 4-5 miles per hour of charge and draws about 15 amps of electricity. Many EV owners find that an overnight charge at home is both convenient and sufficient for the next day's driving needs.
A Level I charger requires a standard 120-volt AC wall outlet, but it should be on a dedicated circuit. If you don't have an attached garage, or have one without an outlet, we can do what is necessary to complete an installation in a detached garage, carport, or driveway.
Level II Charging Stations
A Level II charger will, in most cases, charge quite a bit faster than a Level I charger, at a rate of up to 70 miles of range per hour and draw around 30-40 amps of electricity. Not only are they more time-saving than Level I chargers, an installed Level II at-home charging station will very likely add to your home's resale value.
Level II requires a 240-volt charging station (like a major appliance) on a dedicated circuit. That means you need to run that power from your breaker panel to your charging station. If your existing electrical system is near capacity, a heavy-up would likely be required.
At Wilcox Electric, we can provide cost-effective solutions for at-home vehicle charging situations (also called EVSE – Electric Vehicle Service Equipment). We handle the design, permitting, installation, and service for Level I and Level II electric vehicle chargers.
Does an Electric Vehicle Make Sense for You?
That is a question that only you can answer. EVs provide an environmentally-friendly alternative to gasoline-powered cars and trucks. They have become a lot more affordable as demand and production has increased. With the additional convenience of at-home charging stations, many home and auto owners are now making the switch.
Contact us today if you'd like to learn more about how Wilcox Electric can help.