Outdoor Electrical Outlets Make Holiday Lighting Safe and Easy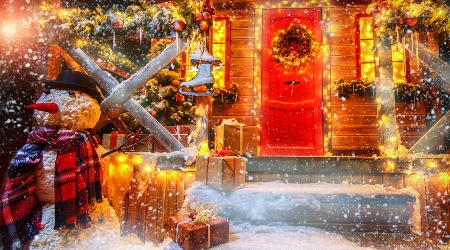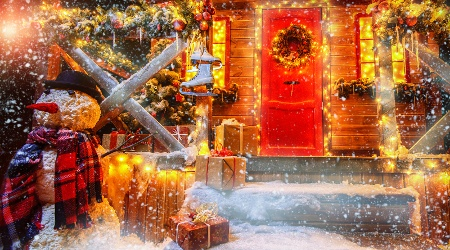 As the holiday decorating season approaches, do you feel the urge to festoon your home with lights? Is a shortage of electrical outlets the only thing standing between you and your colorfully lit dreams? Adding strategically placed outdoor electrical outlets can change your outdoor living game all year round.
With new outlets, you're free from the towering stack of lights plugged end-to-end into a single outlet. No more stringing endless extension cords through doors and windows to access indoor outlets, either. You can design a light show that puts the neighbors to shame, and even control it from the office or on the go.
Are Outdoor Electrical Outlets Safe?
It's no secret water and electricity don't mix. Since exterior light features are constantly subjected to the elements, a live outlet on a rainy day may be a chance you do not want to take.
Fortunately, you don't have to be afraid to use your exterior outlets. Properly installed GFCI outlets will immediately cut power when the circuit is overloaded or if moisture is present. It's safe for you to use outlets that have been recently exposed to rain or snow, assuming they're installed according to the National Electrical Code.
Ample access to outdoor outlets can actually be safer for you and your family. Running long extension cords to distant outlets and overloading them is a risky business. Being able to plug holiday lights and decorations directly into an outdoor outlet means no tripping over cords and no stringing them through the house to an indoor receptacle. You're able to boost the safety and convenience of your outdoor activities, including festive holiday light installation. From summer parties to winter decorating, you'll get year-round use from your new outlets.
Building a Smart Home Inside and Out
Whether you're contemplating the benefits of smart home devices, or you're in the process of creating an entire smart home system, don't overlook your outdoor outlets. New smart outlet products are being introduced to the market all the time. Want to fire up your holiday light display while you're stuck at the office? Exterior smart plugs can make it happen. Some can even give you detailed readings about your energy usage and help you make your decorative lights a bit eco-friendlier.
Installing cutting-edge smart outlets can modernize your home inside and out while providing a host of convenient features. Upgrading existing outdoor outlets with smart products, or installing brand new outlets, means your summer barbecue music and your winter holiday light displays alike, are modernized. Combat energy waste while potentially lowering utility bills, doing the planet, and your wallet a favor in the process.
Installing Your New Outdoor Outlets
The safety features of GFCI outlets made for the great outdoors are no use if the outlets are improperly installed. Like many electrical projects, adding new exterior outlets probably isn't the ideal do-it-yourself project. Rather than assuming the risk of injury or property damage, it's better to work with a seasoned professional.
Wilcox Electric has been serving the DC area for more than two decades. If you need more outlets to realize your outdoor decorating dreams, we can help.