Do You Know How to Choose the Right Outdoor Light Fixtures?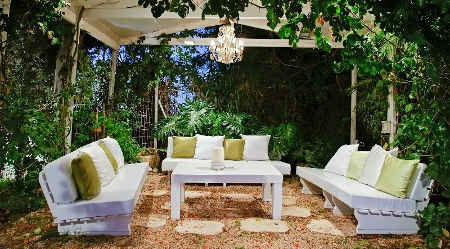 Outdoor living is a concept that has helped homeowners expand their living space without adding onto their homes. It's about transforming your yard into a place that's aesthetically pleasing with areas to relax, enjoy, and spend time. Many people create the area by adding décor, safety and security, and unique focal points.
Another essential part of your outdoor living space is the lighting. But how do you choose exterior light fixtures that support each feature of your design?
What Tasks Do You Need Lighting For?

Just like your interior lighting design, you'll need to look at what you'll use your outdoor space for. Maybe you want an outdoor kitchen and entertainment seating. Perhaps you want scene lighting for an evening book club or something that deters animals and unwanted guests from entering your space.
Whatever their purpose, exterior lighting fixtures come in a wide variety of sizes, styles, and capabilities. Searching can feel overwhelming. However, like any home project, some questions will help you make the right decisions.
Begin by identifying what you're going to use your outdoor living space for. Before choosing a style, start with function. What are you using lighting fixtures for? Do you want accent lighting, security lighting, focal feature lighting, work lighting, or all of the above? Here are some questions to ask yourself to narrow down your exterior lighting fixture search:
What are my priorities? (Examples; mood lighting, the ability to change lighting scenes, safety for guests, security lighting, décor?)
Do I have any features I want to highlight? (Examples; outdoor art, seating area, hammock or swing, gardens, walkway, hardscapes, or a stunning plant?)
What tasks do I need lighting for? (Examples; cooking, reading, watering at night, etc.)
Do I want my fixture to have other capabilities? (Examples; fan to push air, smart features, dimmer)
If you know you want multiple fixtures, identify what you want each fixture to do, and how it will work together with the others.
What Exterior Light Fixtures Are Available?
Outdoor light fixtures cover everything from porch and patio sconces to string lights. Some of the most popular additions to outdoor lighting schemes are:
Lanterns
Path lights
Barn or bulkhead lights
Spotlights
Floodlights
Security lights
Sconces
People also use decorative lighting fixtures that can withstand outdoor conditions. A variety of fixtures can be used to create uplighting, shadowing, washing, grazing, silhouetting, and moonlighting in your outdoor space.
What Are Your Lighting Fixture Style and Budget?
A budget is an essential part of your exterior lighting project, as is and matching your home's style and décor. Many homeowners work to bring the interior aesthetic into the outdoor space, so it creates a nice flow – especially when you plan on entertaining both inside and outside at the same time.
Look at what fixtures you need, and where you want to spend more as well as areas that aren't a priority. Choose some lovely focal pieces, and build around those. The same Do's and Don'ts work for both interior and exterior lighting. They are:
DO determine the design/style theme in your home and work to match it
DON'T buy on looks alone; the lighting function is crucial
DO consider color, size, and shape
DON'T buy something that doesn't support your wattage needs
DO invest in a range of fixtures that work together for both tasks and style
DO Work With a Professional.
Outdoor light fixtures are better (and safer) when installed by an experienced electrician. Electrical contractors know how to safeguard against weather, can guide you in choosing the design, and offer helpful suggestions.
For advice on creating your outdoor living space, contact Wilcox Electric. With an initial phone conversation, we will assess what you want and the options available. When necessary, we can coordinate with your other contractors.