Want Your Home to be Smart? You Need an Electrician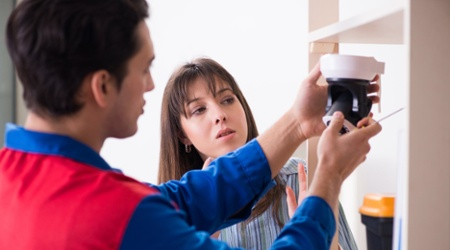 With everyday home projects, it's not always obvious to know when to call an electrician – and most people don't typically think about it when considering smart home products. However, home automation technology requires wires and power, which is precisely the time to get a professional on board.
But what makes a home "smart?" Think of it like this: A smart home is one where heating/cooling, lighting, appliances, and more are "connected," and they can be automated or controlled remotely. Smart homes can also connect all these smart features to each other, allowing them to work together to increase your home's overall functionality and efficiency.
How does your electrical system tie into smart home systems?
You can piece together a smart home with different products, but there's no guarantee they'll be compatible. The optimal smart home starts with a hub (your control center). Some hubs like Samsung SmartThings are hard-wired into your home – in other words, into your electrical system. Others like Amazon Alexa and Google Home do not require hard-wiring. They just have to be plugged in.However, it's important to make sure that each element works with the smart hub you select.
The entire idea behind smart technology is to automate – to use the information to create a pattern of how you use your home, and help you streamline it. If these devices aren't wired in, they can't communicate with each other and work together to do the things you want your smart home to do.
Feeling confused? Don't worry, you're in good company. Here's an example: You have smart outdoor lighting and smart security cameras. Wouldn't you like them to know to turn on at the same time – either when you leave the house, or someone rings the smart doorbell? To do that, you need them to be connected and set to act in specific ways, like being automatically triggered by certain actions.
Why do you want to work with an experienced electrician?
An experienced electrical technician can help create your smart home based on the features you want, and make sure it's correctly wired and dialed in.
A trained electrician from Wilcox Electric can create your smart home to work as you envision it. Some applications are straightforward and simple, but we have worked through unexpected problems when installing and programming these devices. Avoid the disappointment of investing in products that don't work because you don't have the time to figure out how to resolve the unexpected problems. (Haven't we all been there??) And importantly, reduce the risk to yourself. Anytime you handling electrical wiring, it can be dangerous.
For advice on creating a smart system in your home, contact Wilcox Electric. With an initial phone conversation, we will assess what you want and the options available. When necessary, we can coordinate with your other contractors.