Smart Home Features to Improve Your Stay-at-Home Time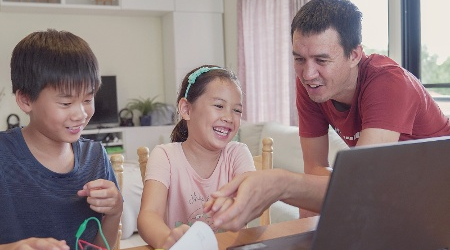 Everyone is now enjoying more stay-at-home time with the COVID-19 pandemic forcing more schoolwork and career work to be performed at home. Many families are capitalizing on this increased time at home to find new ways to enjoy family and their home. These enforced staycations do not have to become confining and discouraging. The addition of a few smart home features can help ease your increased indoor time.
Lighting
Smart lighting allows you to control your home's lighting from wherever you are, and in a variety of ways and settings. Smart settings can allow your lights to turn on and off according to a room's occupancy, or connect to a smart hub and control the lighting in every room with your voice or phone. You can also lower your energy bills with controllable lighting, as well as set them for a pattern while you are away to appear as if someone is at home.
Security
More people at home more often increases the risk of a fire or carbon monoxide poisoning. Fit your home with smart alarm smoke and carbon monoxide detectors to protect your loved ones. New smart alarms can even tell you exactly where the danger lies and even coordinate with smart lighting to light the safe pathway out of danger. Some smoke detectors also have sensors that can detect the how quickly a fire is spreading and to what areas of the home.
Smart security systems can include numerous indoor and outdoor cameras that can be monitored inside or remotely on your phone. Smart doorbells can show who is approaching your door or who pulls into the driveway. Other smart features can even detect when a door or window opens and can track movement inside the home.
Temperature
Smart thermostats are revolutionizing the way we stay comfortable indoors. Smart temperature devices have movement sensors that detect when activity is happening in your house. They use this data to automatically adjust your home's temperature to suit peak times. Set the upper and lower parameters and forget it, until you see the savings on your energy bill. Smart thermostats can also be controlled by a base smart hub or your phone.
Entertainment
Smart speakers are only the beginning of the entertainment options. Link them to your smart assistant for enjoying music, audiobooks and more. Plus, smart applications can also control your home entertainment devices, even turning them off when they sense no one is in the room. Your smart assistant can even link to your digital calendar to remind you of the day's events and appointments and perform Internet searches, leaving your hands free to do something else.
Maintenance
Household leaks waste about 10,000 gallons of water a year in American homes, and water can cause enormous damage before a problem is discovered. A smart water monitor attached to your pipes uses ultrasonic technology to detect leaks throughout your plumbing system. The application transmits data directly to an app on your phone, and sends alerts when a problem is detected. Improve your stay-at-home time by installing smart features to enhance your home living experience.
Wilcox Electric is your Washington, DC area smart home expert, and we can work with to you choose and install most any smart feature. Call or message us online today for more information or ideas.