What the Right Kitchen Lighting Can Add to the Holidays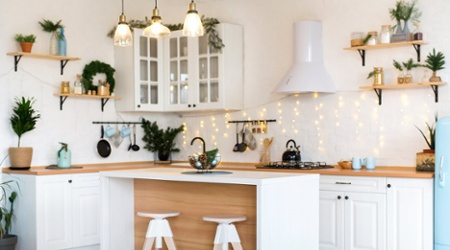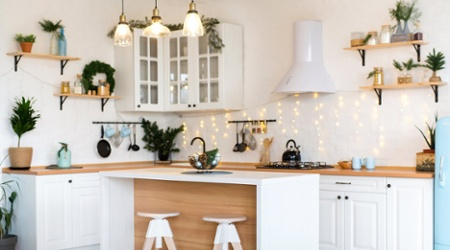 The holidays are approaching and with them come guests, family, and food. Playing host for seasonal festivities means your kitchen will become the central hub of your home. You'll make memories and meals in your kitchen, and the right lighting is crucial.
A full remodel may not be in the cards. However, it is possible to make some relatively low-cost but high impact improvements to your kitchen. We're talking about some thoughtful upgrades to your kitchen lighting. Not just for the holidays, either. Great lighting will create a more inviting space and increase the quality of life every day of the year.
Illuminating the Kitchen Island
When it comes to high-use spots in a kitchen, islands rank near the top. Whether it's your primary workspace or where you host a full holiday buffet, visibility and ambiance are equally important. Between meals, the island also tends to be a favorite gathering spot. Spectacular lighting does more than illuminate the space—it sets the mood. Upgrading the lighting over your island can create an inviting, cozy atmosphere for the holidays in this high-traffic area.
How Under-Cabinet Lighting Can Transform Your Kitchen
Few kitchen lighting upgrades have the same impact as under-cabinet lighting. These fixtures are installed along the underside of upper cabinets and provide warmth to kitchen spaces. Their unique positioning eliminates shadows, making them ideal for workspaces. They instantly boost the aesthetic value of your kitchen and can enhance virtually any decorating or architectural style. If you're looking for a quick, high-impact, and affordable change you can make in time for the holidays, this may be the ideal choice.
Beautifying Task and Primary Lighting
Because kitchens are functional spaces, it's common for task lighting to focus on utility over aesthetics. Primary lighting can also be less than stylish, with a focus on plain ceiling fans or builder-grade flush-mounts and recessed can fixtures. Task lighting may also be scant, with workspaces poorly lit. Upgrading these fixtures can improve the look of your entire space. Paying attention to the lighting quality near work areas is also wise, as it can enhance the functionality of your kitchen. For task lighting that does the heavy lifting, you may also want to consider smart home products that allow you unprecedented control over your lighting.
Choosing the Right Lighting for Your Space
There are many different light fixtures to choose from and many areas of your kitchen to illuminate. It can be challenging to know where to start, especially when it comes to narrowing down fixture options.
While there are thousands of beautiful fixtures out there, it's essential to choose ones that are a thematic match with your existing space. Industrial fixtures may be all the rage, but they may not be an ideal fit in a Tuscan kitchen. Your new lighting should complement and enhance your space, not overpower it. You should also think about your current lighting from a functional standpoint. When you work in your kitchen, is the lighting sufficient? If not, where do you need more illumination? A new lighting package can change the look and feel of your entire kitchen, just in time for those holiday guests.
Wilcox Electric can help you bring the glow of holiday cheer to your kitchen with an upgraded lighting system. We've been serving the DC metro area for more than 25 years, helping homeowners improve their properties every step of the way.