Back to School With Smart Routines, Schedules, and Activities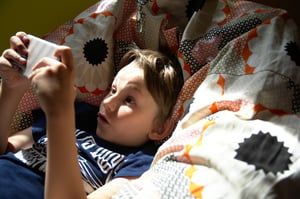 With the return of School Time comes "Bath time," "Bed time," "Time to get up!" and other time-structured household routines. And with school taking place at home for many families this year, it may also be an excellent time to school your devices - Alexa, Google Home, and Leviton - in some Smart Routines, Schedules, and Activities to get everyone back on track.
Below are some tips we culled from our friends at Leviton. Consider how they might help out at your house, then let us know if we can help get you started or add to an existing Smart Home system.
Wilcox Electric entered the Smart Home Technology field early on. Now we are the go-to source on Capitol Hill and all around Washington, DC, for design, installation, and programming to fit each family member's lifestyle and productivity needs.
Get Started with Routines
If sticking to new routines is a problem, try scheduling reminders with timers, smart dimmers, or smart plug-in dimmers to control lighting. Set a time to turn lights on or brighten them as a signal to get up, change positions, or remember an appointment. You can also use these smart options to turn on music, send a voice alert over Alexa or Google Home, or alert your Leviton phone app.
Call "Lights Out" on the bedtime battle with your kids by automating smart lighting, sound machines, fans, and even their favorite night light with smart timers and your Leviton app. All controlled by you at the tap of a button. You can even set an inverted schedule for wakeup times and make the process happier and more fun.
Get Started with Schedules
Not the type to stick to a schedule? Leviton apps allow you to set timers and reminders that alert your smartphone and connected devices throughout your home.
Cue your wakeup playlist on Alexa or Google Home.
Turn on bedroom, bathroom, and kitchen lighting.
Start the kitchen coffeemaker for when you head downstairs.
Create bedtime and wakeup activities, personalized for each member of your household.
Automate these functions from the Leviton app or with voice-activated commands. Switch them up or run them automatically each day at predetermined times.
Get Started with Activities
Make household chores or having fun easier with smart programming! Use the Leviton Decora® 24-Hour Programmable Timer to schedule outdoor lighting to turn on and off automatically, keeping the deck, yard, hot tub, or other outdoor areas lit and ready for use. Motion-sensor lighting switches turn lights on when rooms or areas are occupied and off when activity ceases.
Use the Leviton app and a Wi-Fi® 4-Button Controller to create custom lighting scenes for movie night, game night, and more! You can also install a Voice Dimmer, pre-installed with Amazon Alexa, to control all your smart home devices with your voice. Tired of trying to turn on the laundry room light with your arms fully loaded? Install an LED Ceiling-Mounted Occupancy Sensor to turn on the room lights when it senses motion automatically.
All these uses and more make living safer and more convenient. Wilcox Electric can help you establish and maintain smart routines, schedules, and activities with Leviton apps. Ask us about how to start building your smart home with the Leviton SmartThings Home Automation Bundle. Add sensors, modules, lighting controls, thermostat controls, and more. A Wilcox Electric professional electrician will install each component and ensure that it operates seamlessly to create a safer, streamlined, and more efficient home.
Call Wilcox Electric at 202-546-1010 or 301-583-8888 or contact us online to begin building your Washington, DC area smart home today.