Brighter Days are Ahead with Outdoor Lighting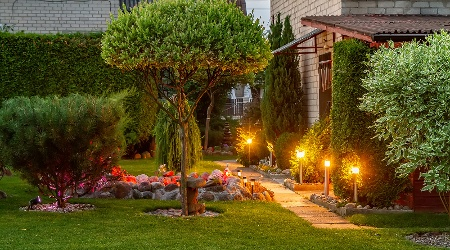 Summertime means more time outdoors to work and enjoy the beauty of our yards. And what better way to stretch the confining limits of staying at home than by extending your enjoyable living space outdoors? Wilcox Electric is your local team of lighting experts for outdoor lighting, whether you are adding lights to your existing design or wish to create an entirely new outdoor space.
Beautiful outdoor and landscape lighting makes an enormous impact, a great first impression, and instantly transforms your overall outdoor experience. Imagine sitting around the pool, deck, or other outdoor space in the evenings with family. Although the forced isolation may feel constraining, these can become some of the best times of your life as your family creates lasting memories outside.
Accentuate the Features of Your Home
Outdoor lighting can help accentuate the beautiful features of your home. Are you proud of your professional-grade landscaping? Add new zest with custom lighting to highlight it at night. Do you wish to show off a custom deck or pool? Adding outdoor lighting can increase the usability of these spaces as well as make them stand out. Outdoor lighting can form a part of the overall design for your exterior home showcase, making your home the envy of the neighborhood. Many homeowners install outdoor lighting at the front of their homes to highlight architectural or landscape features. Walkways, driveways, and house numbers are ideal areas for specific lighting, increasing safety and visibility.
Extend Your Family Living Space
Even with social distancing, you can break out of the house – into your own backyard! Create a fun and usable space outdoors with a fire pit, outdoor grilling area, or family play area. Install outdoor lighting to ensure that the fun doesn't have to stop after dark. Keep swimming, keep playing, or sit and talk, relax and enjoy the stars. Wilcox Electric can help you design and choose the best lighting setup for your unique space.
You don't have to get fancy with a complete backyard makeover to need outdoor lighting. A large, grassy area is perfect for ballgames, camping, picnicking, parties, and more. By adding a simple outdoor lighting setup, you can make your backyard the most popular hangout place of the summer. Stay and enjoy as late as you want!
Increase Security for Greater Peace of Mind
Outdoor lighting also increases your family's safety and security.
Well-lit outdoor walkways and areas around play or relaxing spaces can prevent accidents.
Light your pool or porch to create a safe environment for family enjoyment.
Outdoor lighting dissuades burglars and creates the illusion that someone is always home.
Wilcox Electric can show you how to integrate your outdoor lighting with other smart home features. Expand your family's livable space at home by installing outdoor lighting. Wilcox Electric serves the Washington, DC area with all manner of outdoor lighting design, product and installation services.
We can help you choose the most effective and economical design for your particular project, with motion lights, floodlights, landscaping lights, security lighting, or custom lights to highlight any feature. Call or complete the online form for more information about outdoor lighting options from Wilcox Electric.