Considering New Kitchen Appliances? Keep These Things in Mind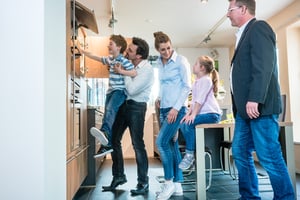 If your kitchen appliances have seen better days, you may be considering replacing them. With so many options on the market, how can you know which ones are the best for you? Here are some tips to help you in your decision making.
What Needs Do You Have?
These are questions to ask when deciding which appliances fit your lifestyle.
Are you a gourmet cook (or aspiring to become one)?
Is your family large?
Are you looking forward to entertaining in the year ahead?
Do you love extra gadgets and cutting-edge technology?
Are your old appliances ready to give out?
If you love to entertain, consider adding an oven with a larger capacity... or a wine-cooler. If you have a big, food-loving family, choose a side-by-side or French-door refrigerator with large freezer drawers or a dishwasher that can hold large platters. New appliances also offer many smart features, including refrigerators that allow you to see inside without opening the door. If you are a high-tech shopper, smart features may be exactly what you have in mind.
Does It Fit Your Space?
You may have your eye on a specialty oven, smart refrigerator, or high-tech dishwasher, but if it doesn't fit in your space, it could cause trouble. Are you hoping to streamline your narrow kitchen with a counter-depth refrigerator? Carefully measure the area where your new appliance will be installed to ensure it will fit properly and allow for needed air-circulation. And remember to allow room for your appliance doors to open all the way safely without bumping into people, walls, or counters. Finally, measure more than once to guarantee you have the correct proportions.
Choose Safety and Cost Savings
Before you purchase a new appliance, it is a good idea to have an electrician take a look at your electrical systems. Doing so can catch issues such as overloaded circuit breakers or electrical circuits before they become a problem. Also, look for appliances with a high energy star rating to save money on electric costs and, in some cases, provide tax savings. You may be surprised to see your electricity costs reduce dramatically, merely by choosing a smart energy appliance.
Consider Adding Lighting
When you bring a new appliance into your kitchen, it can drastically change the space's overall appearance. If you relocate appliances, it is likely that you also change the most-used task spaces. Notice the available lighting in your new configuration and consider giving it a boost, too. Take advantage of that new oven location or kitchen island by adding complementary lighting. This simple addition can create a dramatic effect that will make your kitchen look like it went through a significant remodel.
Take Your Time
When you decide to buy a new appliance, it may be tempting to purchase the first one you come across. Since kitchen appliances are costly, take your time by shopping around. Look for sales and closeouts and consider purchasing floor models. When you decide on a model, ask if delivery is included in the price. Be sure that you understand the store's return and warranty policies, and don't be afraid to walk away if the deal doesn't seem right. These simple moves can save you hundreds.
Major appliance purchases can be exciting, and if you follow the above tips, you can avoid potential stress. If you are ready to make a purchase, contact Wilcox Electric to evaluate your electrical system to make sure it can handle updated appliances. Our team can also help develop design ideas for complementary lighting to make your kitchen feel brand new.