Want to Enjoy Outdoor Living? You Need the Right Lighting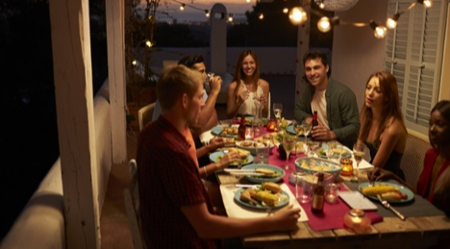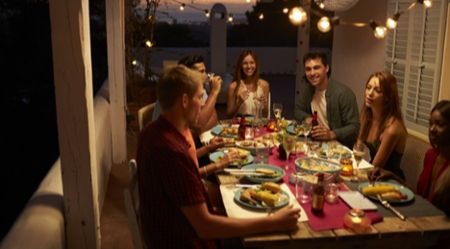 When the concept of outdoor living was introduced, it allowed people to expand usable space without a major addition or remodel. It has become a way to enjoy nature, and still have many of the benefits you'd find in your home. When the weather improves – as it currently is – homeowners are reminded that their living space extends further than the walls of their house. If you haven't created your outdoor area yet, or optimized it with outdoor lighting, now is the time.
Outdoor Living Explained
Outdoor living encompasses several features. Each plays a role in creating a functional space designed for entertainment, enjoyment, and comfort. Elements of outdoor living commonly include exterior light fixtures, general outdoor lighting, hardscapes, living areas, and décor. Before you get into the critical component of lighting, here are some of the other features explained:
Hardscapes – Landscaping covers your foliage and natural features. Hardscaping is your manmade additions. Some common hardscapes are walkways or paths, patios, outdoor kitchens, arbors, walls, fire pits, and more. Your hardscapes will support living areas and entertainment.
Living areas – Your outdoor living areas will be the places where you spend your time. Some basic features include seating, tables, benches, swings, and appliances or accessories that enhance entertainment. Add a space for curling up with a book, or invest in enough furniture to throw dinner parties.
Décor – Décor ties together hardscaping, landscaping, and outdoor living areas. Décor is anything from pots and planters to art, rugs, and other visual elements.
The Central Role of Outdoor Lighting
The right exterior light fixtures and general outdoor lighting greatly improves outdoor living. It adds key benefits, including:
Enhancing safety and security
Becoming an extension of your décor
Lighting up special exterior home features or points of interest
Promoting functionality in the way you use outdoor areas
While it's tempting to start installing lights, it's helpful to approach it with a strategic plan. Consider each of the benefits listed above, and then look at how you'll accomplish each one.
Safety and Security Here you'll focus on providing safe paths and light your entries. You can also light areas to deter uninvited guests.
Décor Choose fixtures and lights that add to your overall design scheme. If you're going for rustic, you may look for bronze fixtures with a raw or nature-driven look. Modern lighting fixtures may feature a minimalist, streamlined look. Consider your style and your home's style. From there, choose fixtures in colors and sizes that blend and optimize.
Focal Lighting Many outdoor living spaces have special features. Whether it's a fountain or unique fence/wall, utilize lighting to draw the eye and highlight it.
Scene Lighting Set the stage for how you want to live outside by designing outdoor lighting scenes that focuses on tasks and lifestyle. If you entertain a lot and want a cozy, celebratory feel, maybe add string lights or lanterns to an arbor. If you are cooking and serving meals, include the correct task lighting.
Working With an Electrician to Create Better Outdoor Living Spaces
It's not always easy to get what you want across in an understandable way, but working with an experienced electrician can help. Bring your outdoor lighting ideas to the table, and ask for input on how to implement it. You can do this with pictures, drawings, or a description of the way you'll live in your outside spaces.
For advice on creating your outdoor living space, contact Wilcox Electric. With an initial phone conversation, we will assess what you want and the options available. When necessary, we can coordinate with your other contractors.