See What We've Done Lately: We're Proud to Make DMV Homes Beautiful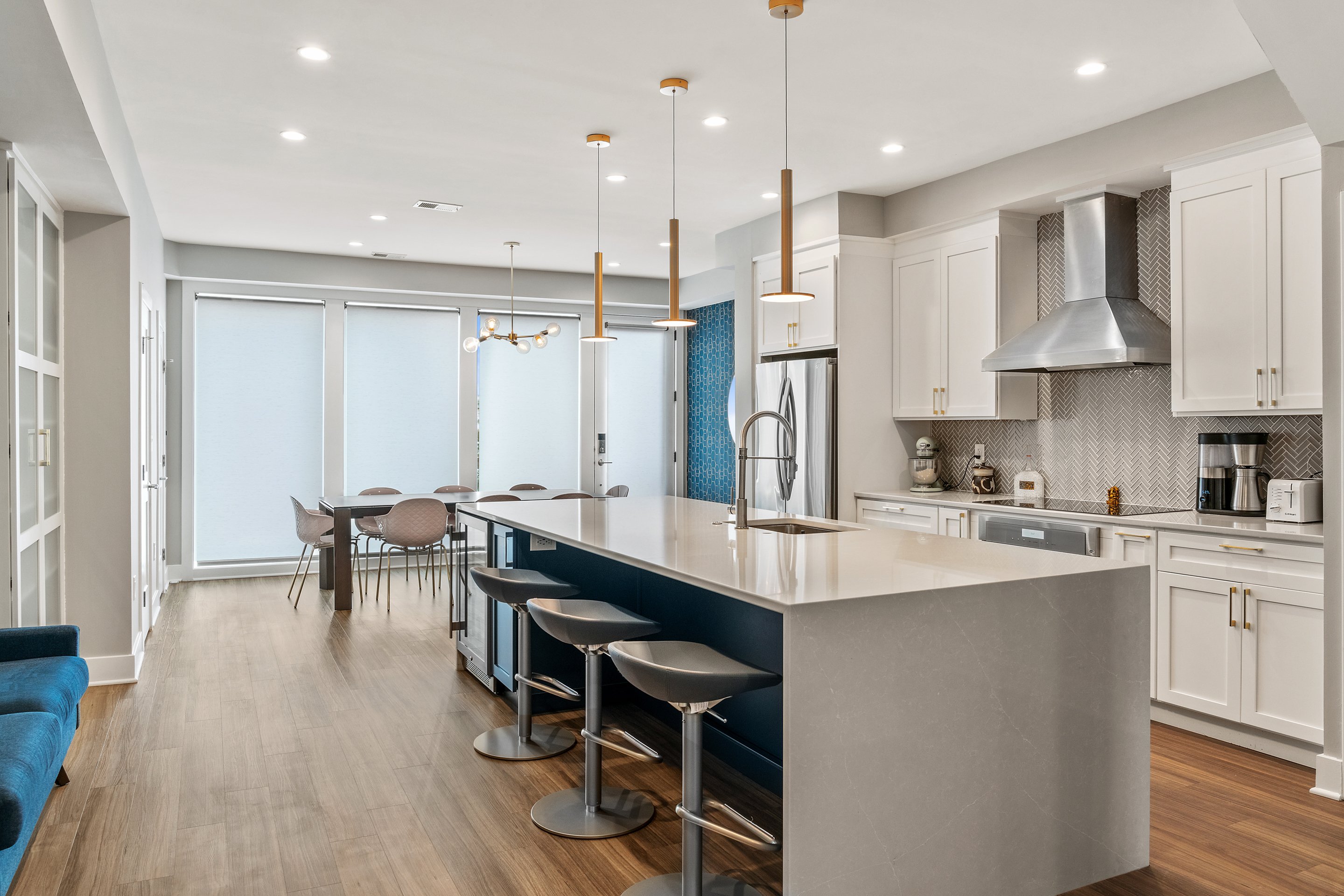 The beautiful kitchen shown here that we worked on recently demonstrates how the right lighting is an essential aspect of room design. Architects and contractors now consider lighting design a vital part of all new construction, renovations, and remodels. If you're considering a remake of your own lighting, have a look below to see how elements of lighting design were used in some of our recent projects.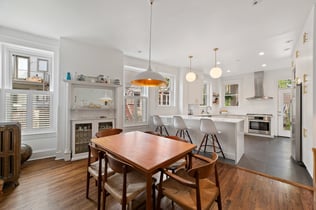 Not only is lighting important in how it supports tasks and lifestyles, but also as a way to highlight the special features of your space.
The lovely kitchen we worked on at left shows how task lighting combined with accent lighting is used to draw attention to features in the room such as the seating areas.
If you're thinking about remaking the lighting in your space, are you aware of the types of lighting available for your interior projects?
Types of Lighting
Lighting fixtures come in a huge variety of sizes, styles, and capabilities. As you start to think about your space, it can be useful to understand the differences between ambient or general lighting, task lighting, and accent lighting.
Ambient lighting

: what do I want the general lighting of the room to look like? (Examples; well-lit, the ability to change lighting scenes, more natural lighting, etc.) Chandeliers, pendants, recessed, track, and ceiling fixtures can all be used to create ambient lighting.
Accent lighting: Do I have any features I want to highlight? (Examples; art, a seating area, etc.) Wall Lights, recessed, and track lighting can all be used to create accent lighting indoors, while outdoors, accent lighting can be employed by using landscape lighting.

T

ask lighting: What tasks do I need lighting for? (Examples; work space, cooking, reading, relaxation, night light, etc.) Pendants, swing arm lamps, under cabinet, and vanity fixtures call all be used to create task lighting.
What is the right lighting fixture size for your space?
Size is a big part of choosing interior lighting fixtures for your home.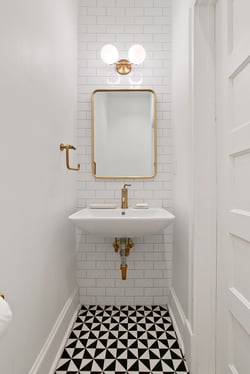 This elegant powder room we worked on shows how the size of the fixture was chosen to complement the size of the space.
You may be aware that there is a general formula people use when determining the right size of a lighting fixture for a room. It requires knowing the room's height, width, and length. From there:
Add length and width (8 ft. + 10 ft. = 18 ft.)
Change feet to inches (18 ft. = 18 in.), which is the ideal diameter of the fixture.
For height (let's say 8 ft.), multiply by 2.5-3 (8 x 2.5 or 3 = 17-24 ft.)
Change to inches (17-24 ft. = 17-24 in.), which is the ideal height for fixture
What is your lighting fixture style and budget?
The final part of choosing lighting fixtures for your interior spaces is matching the style and décor, and setting a budget.
At left, the style of the lighting fixture we installed matches and complements the room's décor, creating an overall unified and attractive style.
In thinking about your own fixtures, you might consider how many you need and approach your choices with an overall budget in mind.
Lamps and sconces are going to cost less than chandeliers and track lighting. Also, note any place you want a focal fixture. A beautiful fixture can serve as focal point in your décor, such as an elegant fixture that hangs in the entry or over your dining table. Divide your budget by both size and importance.
Style will play a role as well. Although you may really like a modern industrial fixture, it may not blend with your Craftsman-style space. You may find something that adds an element of modern, but fits better with the overall aesthetic.
Some simple do's and don'ts include:
DO determine the design/style theme in your home and work to match it,
DON'T buy on looks alone; the lighting function is crucial,
DO consider color, size, and shape,
DON'T buy something that doesn't support your wattage needs,
DO invest in a range of fixtures that work together for both tasks and style, from your simple fixtures to your focal fixtures.
---
At Wilcox Electric, we love to work on lighting design. As experienced electricians, we have numerous suggestions to optimize the beauty of the interior lighting in your home. Contact us today for an estimate.