EV Home Charging Stations and COVID-19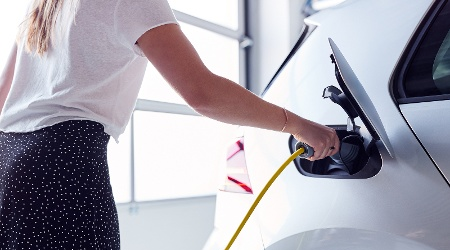 The COVID-19 pandemic has touched every part of life, mostly in negative ways. But surprisingly, those with electric vehicles and EV home charging stations have enjoyed some actual benefits. In fact, the electric vehicle market is poised to grow significantly through the remainder of 2020.
In light of this, some who consider the purchase of an electric vehicle or EV home charging station could find these benefits compelling reasons to go ahead with their purchase.
Charging at Home and Social Distancing
Estimates place approximately 80% of American households with access to a carport or garage for vehicle storage. With the social distancing protocols issued by the CDC and most state governments, many families have had to stay at home and cancel unnecessary travel. For owners of electric vehicles with their EV home charging stations, refueling did not require another trip out into public. This means less interaction, less touching potentially contaminated surfaces at the gas station, and a much more environmentally friendly way of living.
Although gas consumption slowed significantly because of COVID-19 restrictions, electric vehicle owners already enjoy eco-friendly transportation and fueling practices. With social distancing becoming a new normal for most states and locales, obtaining an electric vehicle with the ability to recharge at home looks even more attractive.
Reduced Maintenance Worries
Automotive repair shops enjoyed "essential worker" status during the COVID-19 shutdown period, but with many people not working, it wasn't the best time to need auto repairs. Plus, avoiding contact with others is difficult in an auto shop setting. And an automotive specialist still needs to touch various places on your vehicle, potentially spreading germs.
Overall, electric vehicles generally require less maintenance than internal combustion vehicles. Electric cars benefit from a simpler design and fewer moving parts to break. Owners can perform some routine maintenance, such as turning off certain software features to preserve battery life and reduce heat.
EV Charging Stations Are Growing in Availability
A common complaint against purchasing an electric vehicle is that charging stations are sparsely located. While that may have been true in the past, it isn't anymore. EV charging stations are popping up everywhere and are all self-serve. In 2019, there were over 1800 in Maryland alone. This means limited contact with others when you need to recharge your vehicle. Simply swipe a card, or even better in many locations, pay with your cell phone app or by plugging in.
Keep some disinfectant wipes with you in the car and wipe down the plug before and after handling it. No buttons, no keypads, and no potentially harmful contact help limit the risk of infection and support the health of the business' employees. If you have ever considered the benefits of owning an electric vehicle, now is a great time. And it is also worth the investment to install your own EV home charging station to keep your car prepared for regular use.
Wilcox Electric can install level I or II EV home chargers in your garage or carport for easy and safe recharging at home. Call us today at (301) 583-8888 or (202) 546-1010, or complete the form on our contact page to arrange for a quote or more information.