Give Your Interiors a Fresh Look With New Lighting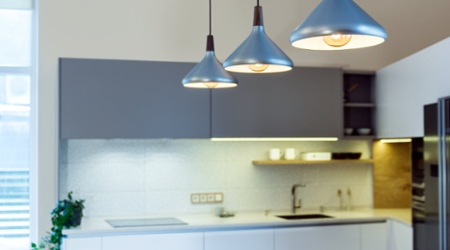 Are you looking to refresh your interiors? Planning to upgrade the spaces inside your home with new furniture or flooring or paint? Consider that the single most crucial design element of a room is lighting. There are many new lighting products on the market today with varying degrees of illumination quality and durability. You want to find the right kind of light that's energy-efficient, attractive, and, most importantly, works well with your lifestyle and your budget.
Energy efficiency is a priority for many, and many options exist to minimize energy usage. One option for that is to look at retrofitting your current lighting setup.
What is involved in retrofitting?
Retrofitting is modifying an existing residential lighting system, usually to improve performance and reduce costs. An LED retrofit is popular and is a useful strategy to achieve energy (and energy bill) savings. It's also an opportunity to look at how to integrate smart home lighting options and scenes. If you're planning to retrofit any interior lighting there are a few things to consider:
Brightness
Room size
Dimming/non-dimming
LED or not
Light location (ceiling, sconces, cabinet/built-in)
What choices of lighting are available?
The various types of lighting give you a chance to really express yourself and highlight your home's style, whether it's a traditional period kitchen or a modern, streamlined space. Here are some options:
Track Lighting
Track lighting allows you to direct the flow of light onto a specific portion of your space. It comes in a variety of styles and finishes, so it's easy to find one that works for your space. There are several types to choose from. They will all have the same two parts – the rail/bar and the track head (light) itself. They come in two forms.
Linear track lights: This is pretty much what it sounds like – a straight bar with lights on it. It's suitable for accent or task lighting. These usually come in 4 or 8-foot lengths.
Flexible track lights: These can be curvy and the length more easily sized for a specific space.
Recessed Lighting
Recessed lighting used in combination with smaller accent lighting can be the best way to light a space such as a kitchen. Recessed lights are flush with the ceiling, and the light bulb itself is actually recessed into it. Sometimes they're also called can lights or downlights. There are options for the actual fixture or housing of the lights. The trim, which is the part you see where the light meets the ceiling, comes in several varieties. These include baffle trim, reflector trim, open trim, eyeball trim, gimbal trim, pinhole trim, wall-wash trim, and shower trim. They usually range from 3 to 6 inches in diameter.
Under/Over Cabinet Lighting
Typical kinds of under/over cabinet lighting include fluorescent strips, puck lights (since they are shaped like a hockey puck), rope lights, and tape lights. They can be LED lights or traditional incandescent bulbs. Lighting for built-ins also falls into this category.
Emergency/Exit Lighting
The most basic version of this is the typical, and undoubtedly familiar, EXIT sign above a doorway, usually with red or green lighting. There are several options for this kind of light – thermoplastic, self-luminous, photoluminescent, and edge lit.
Egress pathway lighting is floor-mounted and glows in the dark, usually in a hallway, and functions as a guide for people in need of an escape route. These lights must follow the National Electric Code (NEC) and OSHA guidelines if they're in public or commercial buildings.
At Wilcox Electric, we routinely advise clients on lighting and retrofitting options to fit any budget or building, including identifying the best choices at the most appropriate price points for your situation.