Overhead Lighting for the Way We Live Today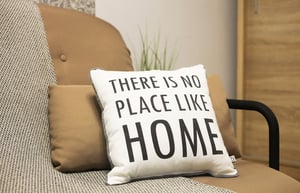 2020 has changed the way we view our homes. For many, it is no longer just space you come to sleep; it is where you spend the majority of your time. Today, the way we live often involves much more time spent in the home, whether it is relaxing with a small group of family and friends, remote learning, or working from home. Our houses may need some modifications to function more comfortably in these changing times. One consideration is overhead lighting.
Lighting is essential to your home's style, but it is also vital for creating desirable workspaces and healthy environments. Dim and low lights may be just right for relaxing, but when you now need your dining room to double as a conference room for a Zoom meeting, or the family room is now a classroom, the lighting needs to be adaptable. The ideal solution is layers of lighting that can change as necessary to fit the situation, from table and floor lamps to dimmable overhead lighting.
Stylish and Functional Overhead Fixtures
For 2020 and beyond, you want to consider ceiling light fixtures that are more than just stylish – they should be functional and customizable. The overhead lighting should be your top layer lights source, with wall lights and lamps offering more focused layers throughout the room. Some of the modern options for overhead lighting fixtures include:
Chandeliers.

Chandeliers are making a comeback but in more modern designs and lighting options. Some feature lighting panels versus bulbs; others are spirals or geometric designs. Chandeliers can add warm, bright light that can match any room's style, from classic or traditional to contemporary and modern designs.

Recessed fixtures.

If you have low ceilings, recessed overhead lights are ideal for adding distributed light to a room. Recessed lighting is also a clean, minimalist look for a modern style or decluttering a small space.

Built-in or hidden lighting

. A trend in overhead and wall lighting is built-in lighting that is hidden from view. The goal is light without a visible fixture, including light panels or LED strips that run along the trim, a great solution under wall-cabinets in kitchens or work areas.

Pendant lighting

. The pendant light is still a popular style, especially in areas where you want ambiance like the bedroom. Combine the chandelier and pendant style with a bedroom pendant chandelier for an updated look for your favorite hideaway.
Changing the lighting fixtures in your home can impact both style and function. Many overhead lights can be incorporated into your home automation system to make it simple to control the lighting levels in every room. You can also change the function with the type of illumination, from bright or soft light to warmer color temperatures available in LED bulbs and panels.
Not sure what overhead lighting would best suit the different rooms in your home for the way you live today? Give us a call at Wilcox Electric. We have been helping our customers in the greater Washington, DC, metro area with their electrical needs since 1989. Our team can help you explore the newest options in overhead lighting to meet your functional needs and style – get in touch with us today to discuss your next lighting project.