Considering Upgrading to Energy-Efficient LED Recessed Lighting?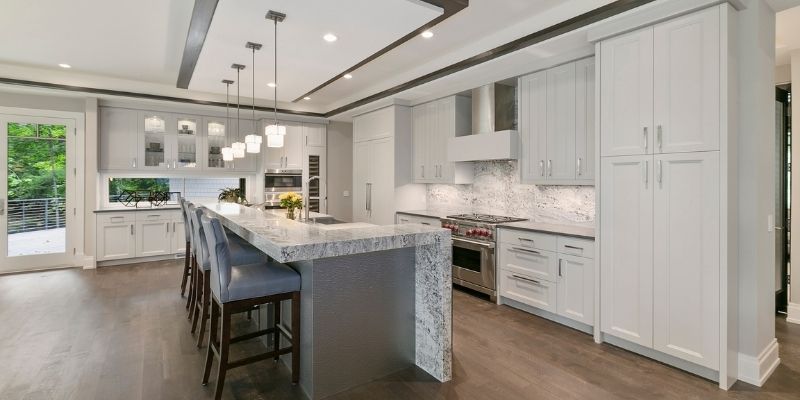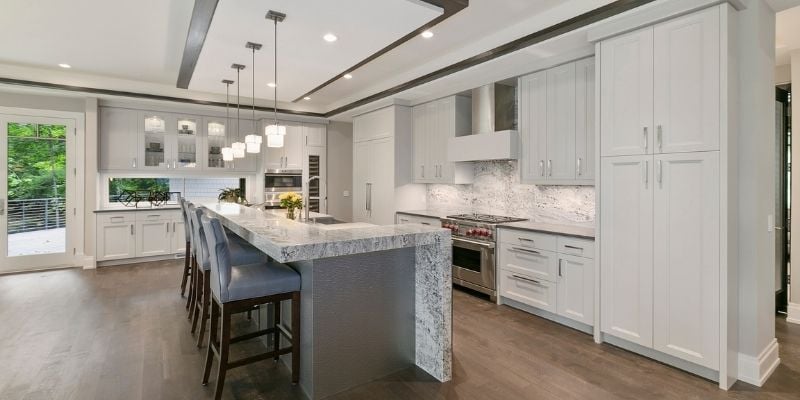 Recessed lighting adds a beautifully lit atmosphere to any room. Because recessed or canister lights provide subtle, unobtrusive illumination, they complement any decorating style in your historic home, whether you prefer a more modern style or a traditional period-appropriate interior style.
When it comes to ceiling lights, you have many choices: chandeliers, pendant lighting, track lighting, ceiling fans with a light fixture, semi-flush mounts, etc. But no matter which you choose, all of these will protrude from the ceiling either by several inches or several feet. This is why many prefer recessed lighting.
Many of us are spending more time working remotely and in online classes, and recessed lighting can add style while providing the right glow in your work or study room. Recessed lighting is also great for kitchens, hallways, shower stalls, home movie theaters, basements, and anywhere there are low ceilings. They are especially suited to DC's historic homes with smaller rooms and lower ceilings, where they free up the ceiling space, making your room look and feel bigger than it is.
Recessed lights are also a good choice because when arranged correctly, they can illuminate and help you make use of the entire room and not just the middle of the room. They also can be used to great effect to highlight art pieces or period decorative trim and other prized architectural features of your home.
Some Things To Keep In Mind
One thing to keep in mind is safety whenever you're dealing with electricity. Make sure your recessed lights are IC-rated. Lights are labeled either IC-rated or non-IC rated. IC is Insulation Contact. Lighting can cause a fire hazard if the lights are not rated to be safe with insulation, which is important if you're dealing with an insulated attic or crawl space above the ceiling.
Another concern with recessed lighting is air leaks. Recessed lights can allow air leaks that affect your heating and cooling. Air leaks can add up to big dollars on your power bill. Having a professional electrician install new lighting will ensure the gaps are sealed, and the insulation is safe.
Thinking About LEDs?
You might consider springing for LED bulbs, or integrated LED fixtures, which include both the fixture and the bulbs. They cost more out of the box, but light-emitting diodes (LEDs) are far more efficient than other light bulbs commonly used in residential recessed lighting, such as incandescent, halogen, and even Compact Fluorescent Lights (CFL). They can make your home easier to sell. LED bulbs can be used in some standard fixtures, or integrated LED fixtures can easily be retrofitted into existing incandescent fixtures.
LEDs save energy while providing substantial light. A single LED luminaire can save $6 per year in energy costs, uses 75 percent less energy, and will last 25 times longer than a comparable incandescent bulb. Look for LEDs that are airtight and rated for contact with insulation (IC-rated). This will allow for airtight insulation around the cans, preventing air leakage that robs homes of heated or cooled air. Finally, consider putting your recessed lights on a dimmer. Adjusting the brightness whenever full-intensity light isn't needed saves energy and money.
Cool White or Warm White?
LED light bulbs are available in the most common color temperatures used for home recessed lights – cool white and warm white. Cool white is crisp and bright, making it welcome in kitchens, laundry rooms, and workshops, while warm white is soothing and well-suited to family rooms, bedrooms, and bathrooms.
The color temperature of LED recessed lighting is rated on the Kelvin light scale that ranges from 2000K to 6500K—as the number increases; the light quality becomes cooler. At the bottom of the scale, the warm color temperature contains amber and yellow tones. As the light progresses up the scale, it becomes crisp white and eventually takes on a bluish, cool tone at the upper end.
Bottom Line on Recessed Lighting?
Because there is so much room for error, including significant safety issues, we highly recommend you give us a call when you are considering upgraded or new lighting installation. It's our job, and we have been your Washington D.C. electrician since 1989.
---
When you call a professional electrician from Wilcox Electric, we'll help you determine how many lights you need and where to place them – and you can always depend on us for safe, professional installations that meet area safety codes. Contact us here.